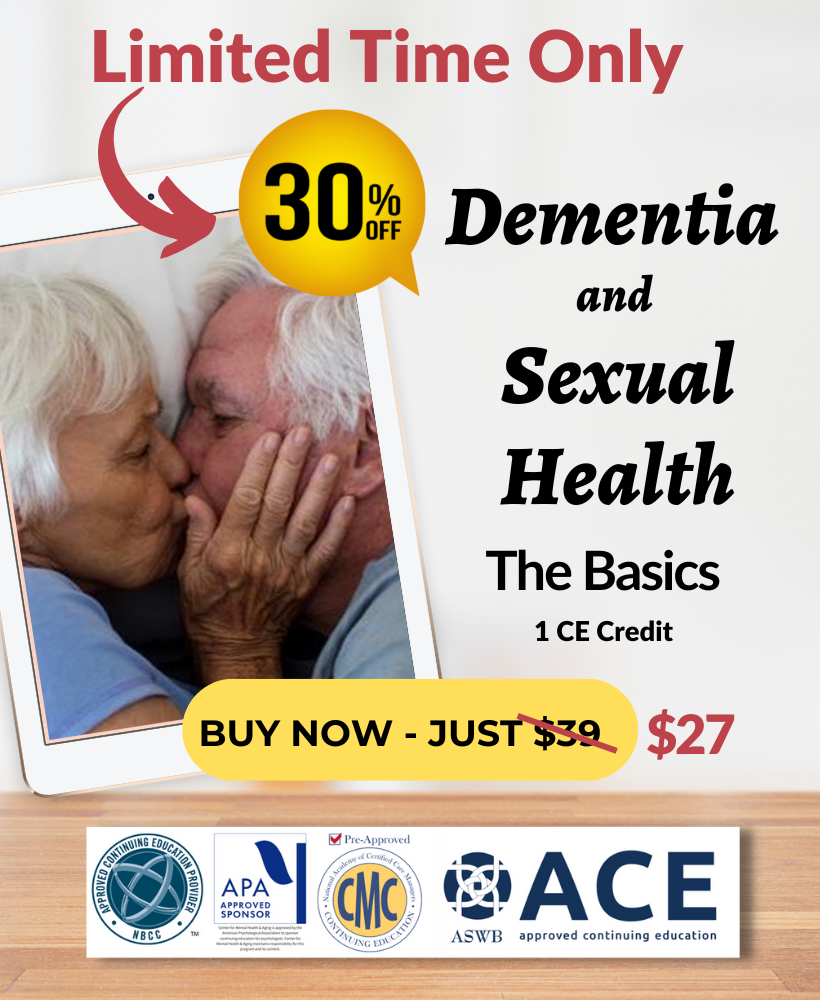 Learn to balance a person with dementia's right to sexual autonomy while maintaining safety.



In this one-hour Continuing Education course, you'll learn...

The facts about dementia and sexuality
How your own values may impact the sexual rights of people with dementia
Guidelines for sexual consent in the context of dementia
Why every long-term care community needs a sexual health policy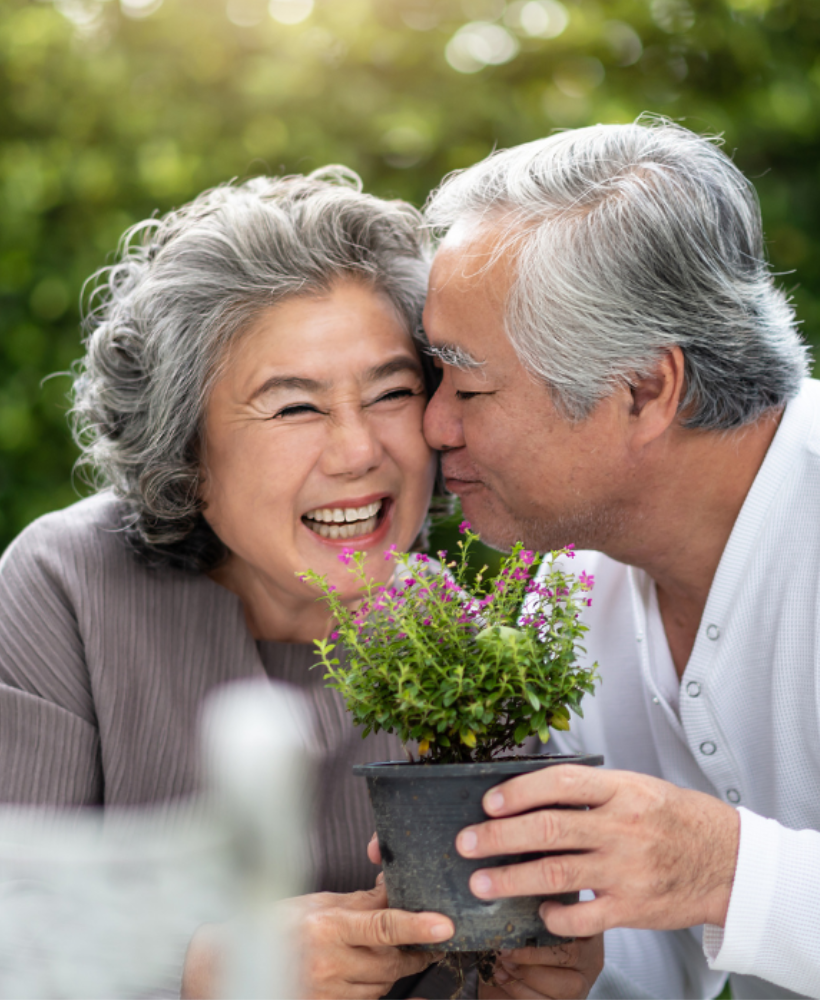 When a person with dementia expresses their sexuality, there are often questions with no clear answers, like:
>> Can the person consent to intimacy?
>> Do the intimate partners misidentify the other for a spouse/partner?
>> How do you differentiate between healthy and unhealthy sexual behaviors?
>> Are we doing the right thing for the people we care for or are we causing more harm?
What is clear in the midst of this confusion is that training and guidance are needed to help you honor a person with dementia's rights and protect them from harm.



This Webinar is a Must Attend If…
You're a professional who values holistic person-centered care and desires more tools for navigating sexual health and safety in the context of dementia.

You're a caregiver wanting to learn more about dementia and sexual health

You believe that

knee jerk reactions

and

best guesses

aren't enough when it comes to navigating sexual expression in the context of dementia

You want to take your dementia expertise to a deeper level


This Webinar is NOT for you if…
You're fixed your beliefs about dementia and sexual expression

You believe that people with dementia do not have the right to sexual expression in any way shape or form.

You aren't open to considering how your own values may influence your beliefs about dementia and sexual expression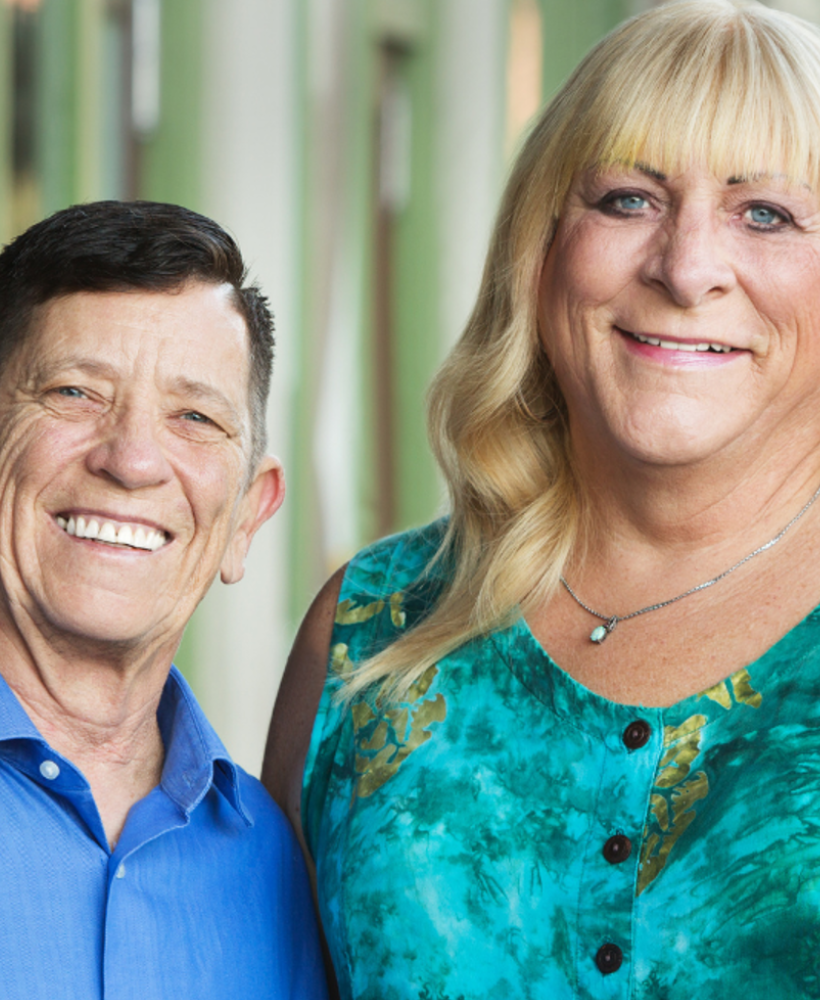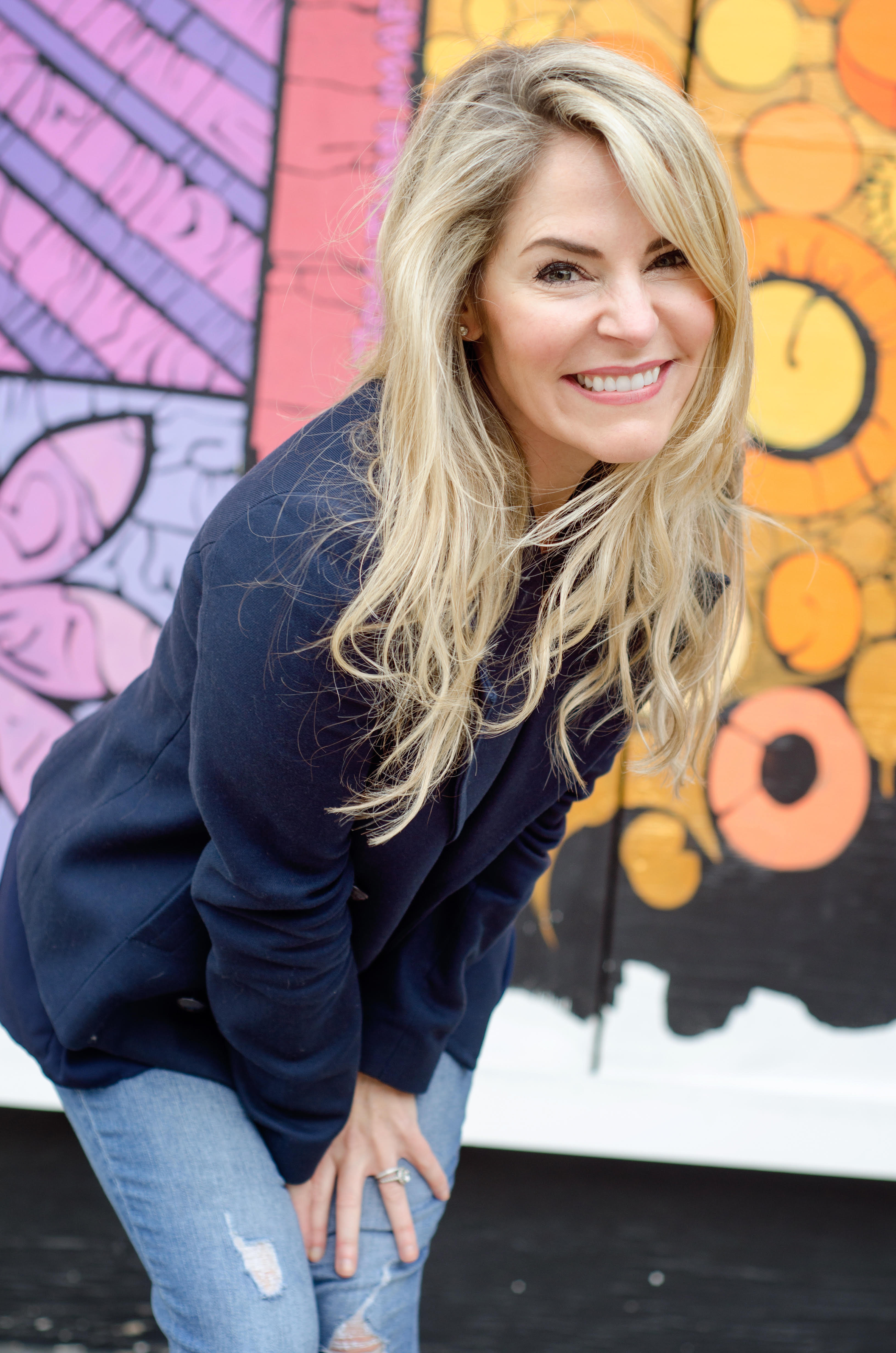 I'm Dr. Regina Koepp, I'm a board certified clinical psychologist, clinical geropsychologist, founder of the Center for Mental Health & Aging, the lead medical psychologist at University of Vermont Medical Center, and creator of the only Dementia & Sexual Health Certification Program in the United States.  
Over the last 15 years working with people living with dementia, I've seen first hand the alienation and separation many people living with dementia endure, and ways in which their basic human rights are denied, including their right to sexual expression.
My goal is to ensure that all professionals serving adults with dementia have the tools they need to balance an individual's right to sexual autonomy while maintaining safety. I can't wait to share these tools with you! 
Together, we'll build an inclusive world for people living with dementia, one that includes love, intimacy, and relationships.

What Students Have To Say About This Course

"The best workshop I've attended in years"
Social Worker
"Far exceeded my expectations. Helpful material. Great presenter!"
Long Term Care Administrator
"I came with many questions and am leaving this workshop with answers. This workshop is amazing"
Resident Care Manager
"Well worth it! Great information that can be applied to real life situations"
Social Services Professional
"Enjoyed the instructor's ability to be open and honest with the subject"
Long Term Care Administrator
"Dynamic and knowledgeable presenter. She had my attention from the get go. Handouts are very useful including resources and citations."
Social Services Professional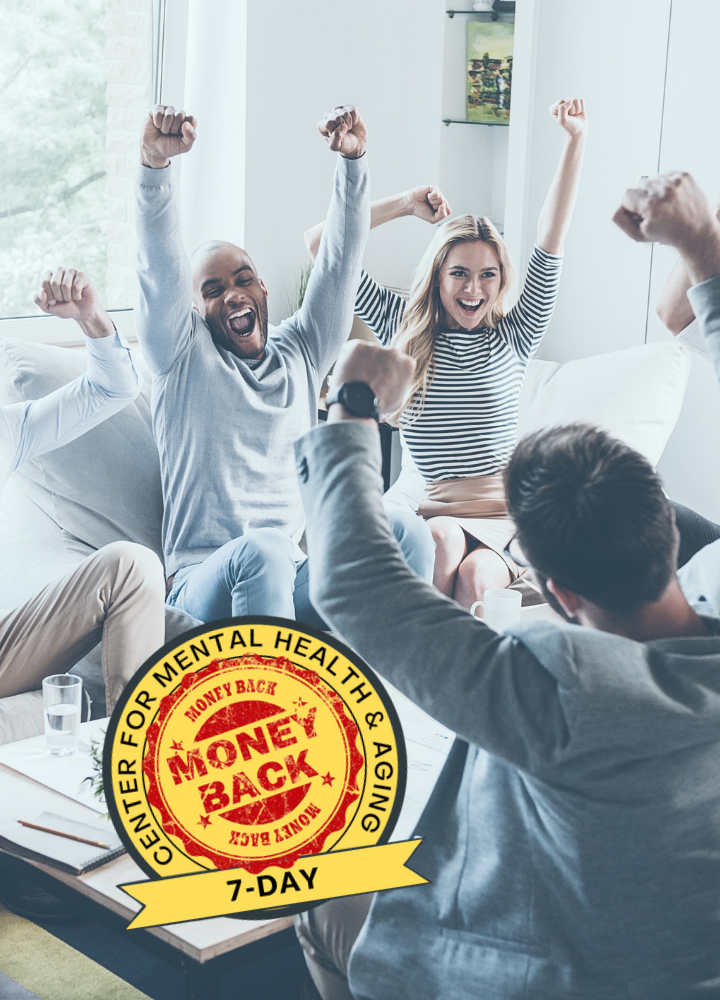 Dementia & Sexual Health: The Basics
1 Continuing Education (CE) Credits/1 CMC Contact Hours for therapists, counselors, psychologists, social workers, care managers
Get Instant Access to this course when you enroll as this an On Demand- Asynchronous Webinar
Course Description: This beginning level workshop will provide an overview of sexual expression in older adults, but more specifically adults living with dementia. It will discuss common challenges that arise, including hyper-sexuality and dementia, knowledge of the sex partner, and capacity to consent. This workshop will also explore sexual expression of residents within care communities and the dilemma between the human need for affection and sexual expression versus the policies and regulations of care facilities. It will discuss ethical dilemmas that arise in the process of sexual consent and decision making and will define decision making capacity surrounding sexual consent. It will also explore ways in which the individual's values surrounding sexual expression may vary from family members' (decision making surrogate's values), as well as the system/institutional policies or values. Will also explore risks related to sexual expression or activity. Vignettes and case studies will be used to challenge participants to think deeply and critically about their own values as well as the needs and wishes of the individual.
Learning Objectives: After attending this beginning-level program in full, participants will be able to:
Identify 3 key points related to sexuality and sexual health in nursing homes based on research surveying nursing homes
Examine family dynamics and emotional responses regarding dementia and sexual expression and the role of family influence on resident sexuality
List 3 recommendations for balancing an individual's right to sexual expression, autonomy, and privacy with duty to protect
Target Audience: This seminar is open to all Psychologists, Social Workers, Therapists, Counselors, Geriatric Care Managers and other interested mental health and senior care professionals.


Recorded 10/7/22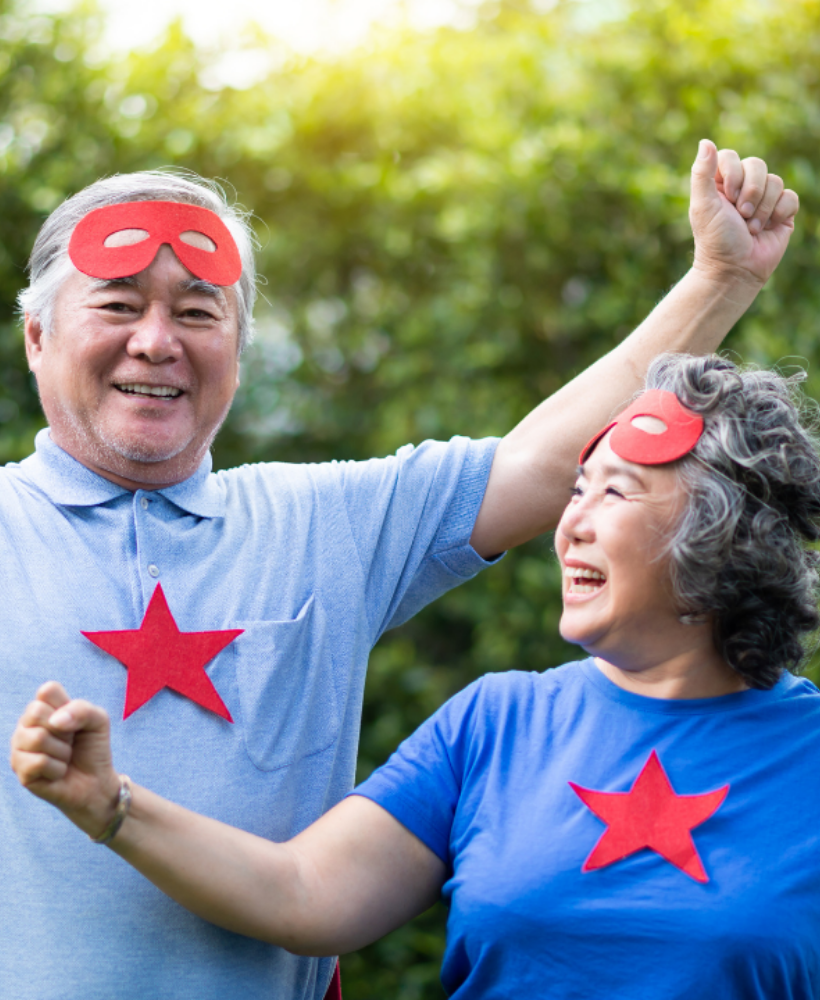 What Makes Us Different Than Other Continuing Education Companies?

We are a mission-driven continuing education company that focuses solely on meeting the mental health needs of older adults.




We include diversity, equity, and inclusion in all of our continuing education programs and strive to ensure that people historically left out of mental health care are included, not as an afterthought, but in everything we do.




We provide topics that focus on the full aging experience, not just one corner of mental health care. For example, we teach about topics like sexuality and aging and sexual consent in the context of dementia.

Our presenters are at the top of their field and have proven expertise in the courses they teach. You'll have confidence knowing you're getting the very best training.

We are a small, independent, woman-owned company. As licensed, board-certified clinical psychologist who works every day in clinical practice, founder, Dr. Regina Koepp understands what clinicians need.
How It Works
Participants will have their participation registered through Center for Mental Health & Aging. This program is available for six (6) continuing education (CE) credits after the following steps have been successfully completed:
Step 1: Attend 100% of the course. Attendance is tracked via the online platform.
Step 2: Successfully pass the course post-test; a score of 75% or greater is passing. (You have a total of 3 attempts to pass the post-test)
Step 3: Complete the Course Program Evaluation & Attestation
Step 4: Download Your Certificate


Certificates of completion will be emailed immediately following submission of electronic survey and also available for download in the course platform. It's that simple!

Continuing Education Approvals

Social Workers
Center for Mental Health & Aging, #1801, is approved to offer social work continuing education by the Association of Social Work Boards (ASWB) Approved Continuing Education (ACE) program. Organizations, not individual courses, are approved as ACE providers. State and provincial regulatory boards have the final authority to determine whether an individual course may be accepted for continuing education credit. Center for Mental Health & Aging maintains responsibility for this course. ACE provider approval period: 03/25/2022 – 03/25/2023. Social workers completing this course receive 6 continuing education credits.

Psychologists
Center for Mental Health & Aging is approved by the American Psychological Association to sponsor continuing education for psychologists. Center for Mental Health & Aging maintains responsibility for this program and its content.

Counselors
Center for Mental Health and Aging (CMHA) has been approved by NBCC as an Approved Continuing Education Provider, ACEP No. 7230. Programs that do not qualify for NBCC credit are clearly identified. Center for Mental Health and Aging (CMHA) is solely responsible for all aspects of the programs.
Care Managers
CMHA is approved by the National Academy of Certified Care Managers (NACCM) as a continuing education provider, #21-905CMHA. This activity approved for 6 CMC contact hours

Licensed Marriage and Family Therapists (LMFTs)
Center for Mental Health & Aging is approved by the American Psychological Association to sponsor continuing education for psychologists. In many state licensing jurisdictions, APA approved continuing education programs qualify for LMFT CE credits. See what your state requires here.

NATIONAL CE CREDIT APPROVALS:
THE CE CERTIFICATE CAN BE DOWNLOADED/PRINTED AFTER COMPLETING THE WEBCAST AND PASSING THE ONLINE POST-TEST EVALUATION FOR ON-DEMAND COURSES (75% PASSING SCORE). NOTE: BOARDS DO NOT ALLOW CREDIT FOR BREAKS OR LUNCH.



REGISTRANT IS RESPONSIBLE FOR ENSURING THAT CE CREDITS MEET THE CRITERIA FOR THEIR OWN JURISDICTION REQUIREMENTS.



*CONTENT AND MATERIALS IN THIS COURSE MAY INCLUDE INTERVENTIONS AND MODALITIES THAT ARE BEYOND THE AUTHORIZED PRACTICE OF YOUR PROFESSION. AS A LICENSED PROFESSIONAL, YOU ARE RESPONSIBLE FOR REVIEWING THE SCOPE OF PRACTICE, INCLUDING ACTIVITIES THAT ARE DEFINED IN LAW AS BEYOND THE BOUNDARIES OF PRACTICE IN ACCORDANCE WITH AND IN COMPLIANCE WITH YOUR PROFESSION'S STANDARDS. 





SPEAKER DISCLOSURES:
FINANCIAL:
 REGINA KOEPP, PSYD, ABPP IS FOUNDER AND OWNER OF THE CENTER FOR MENTAL HEALTH & AGING (CMHA) AND CO-DIRECTOR OF THE CMHA CE TRAINING PROGRAM. She is lead medical psychologist at university of vermont medical center & HAS A PRIVATE PRACTICE IN ATLANTA, GA.
NON-FINANCIAL:
 REGINA KOEPP IS A MEMBER OF GPA, GGS, GSA, APA, AND IS VICE-CHAIR OF THE ETHICS COMMITTEE OF THE GEORGIA PSYCHOLOGICAL ASSOCIATION (GPA)
THE CMHA CE TRAINING ADVISORY COMMITTEE INDEPENDENTLY REVIEWS DR. KOEPP'S CE PRESENTATIONS TO ENSURE THAT DR. KOEPP'S PRESENTATIONS MEET THE CE PROGRAM REQUIREMENTS.
THERE IS NO KNOWN COMMERCIAL SUPPORT OR CONFLICT OF INTEREST FOR CENTER FOR MENTAL HEALTH & AGING



COMMERCIAL SUPPORT: 
THERE IS NO KNOWN COMMERCIAL SUPPORT OR CONFLICT OF INTEREST FOR THIS CE PROGRAM, CONTENT, OR SPONSOR.



ACCESSIBILITY REQUESTS: 
CENTER FOR MENTAL HEALTH & AGING IS COMMITTED TO ACCESSIBILITY AND NON-DISCRIMINATION IN CONTINUING EDUCATION ACTIVITIES AND WILL CONDUCT ALL ACTIVITIES IN CONFORMITY WITH THE AMERICAN PSYCHOLOGICAL ASSOCIATION'S ETHICAL PRINCIPLES FOR PSYCHOLOGISTS. IF PARTICIPANTS HAVE SPECIAL NEEDS, REASONABLE EFFORTS WILL BE MADE TO ACCOMMODATE THEM. PLEASE CONTACT 
[email protected]
 WITH QUESTIONS, CONCERNS OR TO REQUEST SPECIAL ACCOMMODATIONS.



GRIEVANCE POLICY: 
CMHA WILL RESPOND TO GRIEVANCES IN A REASONABLE, ETHICAL, AND TIMELY MANNER. GRIEVANCES MAY BE SUBMITTED BY COURSE PARTICIPANTS IN WRITING TO 
[email protected]
. CMHA'S COMPLETE GRIEVANCE PROCEDURE WILL BE PROVIDED UPON REQUEST. YOU MAY REQUEST GRIEVANCE PROCEDURE BY EMAILING 
[email protected]
.
COURSE INTERACTION & SYSTEM REQUIREMENTS
THE FOLLOWING SYSTEM REQUIREMENTS HELP TO REDUCE TECH PROBLEMS:
OPERATING SYSTEMS: WINDOWS XP OR HIGHER, MACOS 9 OR HIGHER, ANDROID 4.0 OR HIGHER
INTERNET BROWSER: INTERNET EXPLORER 9.0 OR HIGHER, GOOGLE CHROME, FIREFOX 10.0 OR HIGHER
BROADBAND INTERNET CONNECTION: CABLE, HIGH-SPEED DSL & ANY OTHER MEDIUM THAT IS INTERNET ACCESSIBLE.
WEBINAR: LIVE SYNCHRONOUS ONLINE COURSES REQUIRE USE OF ZOOM SOFTWARE



GENERAL REFUND POLICY: 
ON DEMAND COURSES HAVE A 7-DAY MONEY BACK GUARANTEE.
ALL LIVE WORKSHOP REFUNDS WILL BE HONORED FOR CANCELLATIONS IF RECEIVED AT LEAST FIVE (5) DAYS PRIOR TO THE DATE OF A LIVE WEBINAR OR LIVE WORKSHOP AND WITHIN 30 DAYS FOLLOWING PURCHASE. PLEASE NOTE THAT PAYMENTS MADE VIA CREDIT CARD HAVE CERTAIN FEES ASSOCIATED WITH THEM, SOME OF WHICH ARE NON-RECOUPABLE AND ARE THEREFORE NON-REFUNDABLE BY CENTER FOR MENTAL HEALTH & AGING. THEREFORE, ALL LIVE WEBINAR PAYMENTS MADE BY CREDIT CARD WILL HAVE A THREE PERCENT (3%) CREDIT CARD FEE DEDUCTED FROM THE REFUND. SHOULD YOU HAVE ANY QUESTIONS REGARDING OUR LIVE WEBINAR REFUND POLICY, PLEASE CONTACT 
[email protected]